In the process of creating Supraspectives, the artist duo Quadrature has gathered the data of 590 (recent & former) spy satellites, whose trajectory the installation follows. A third of them can be considered space trash, as they are obsolete or damaged, but still, they continue overflying us.
The installation calculates the paths of all those satellites in real time and speculatively reconstructs the view they are capturing, offering artistically intervened images of what the satellites could be observing. Mainly satellites passing near the exhibition venue are selected, combined with other specially interesting or suggestive satellite images. Additionally, a specifically built motorized antenna on the roof connects live with the satellites overflying Tabakalera, transforming their real radio signals into sound. Everytime the installation connects with a satellite, the screen shows the data relative to it, such as country of origin or year of launch.
The installation lives from the contrast between the suggestive beauty of the earth seen from above and outer space, and a critical awareness of its human colonization, very often for military and surveillance purposes.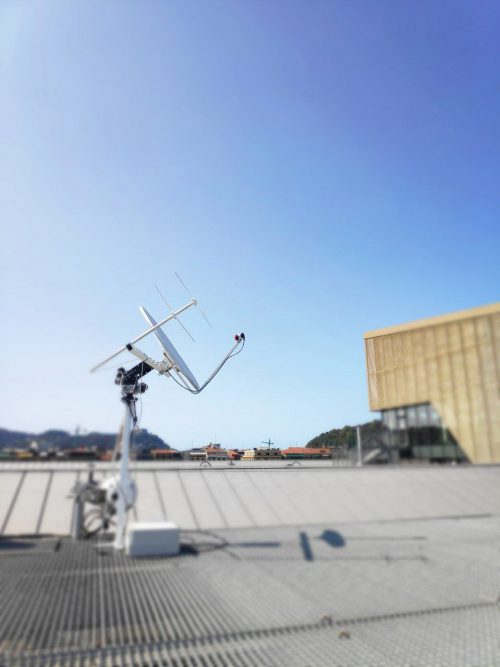 The installation Suprasprectives, is the first artistic production developed by Medialab Tabakalera, in collaboration with Ars Electronica and the Donostia International Physics Center DIPC.
The production was developed in Medialab Tabakalera, with the collaboration of Astrophysics Silvia Bonoli and Raul Angulo from the DIPC, the astronomy group of Medialab and the local radio amateur community.
Based on data collected by:
Mike McCant
Gunter's Space Page
satellitenwelt.de
and many others.
Special thanks to David Pello González.